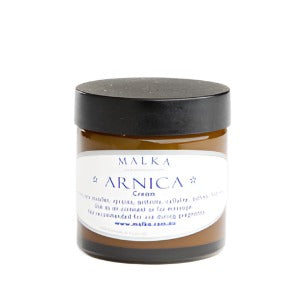 Arnica Cream by Malka - Itches Sprains & Aches, made to order
$50.00
For aches and strains. An invigorating blend of essential oils, including lavender, peppermint and ginger, combined with arnica extract, sweet almond & soya oils, shea butter (organic) and coconut oil wax.
May help sore muscles, bruises, sprains and symptoms of asthma, bronchitis and arthritic pain.
Use as an ointment or for massage.
Some of our customers use the Arnica Cream for foot massage for diabetics to treat poor circulation.
Not recommended for use during pregnancy, on face, or on open wounds.
Made fresh and preserved with natural anti-oxidants.  Remember to regularly wipe moisture from inside the lid to help extend shelf-life.
 Note - this cream is suitable for vegans
Malka Skin Care Products are freshly hand made to order.