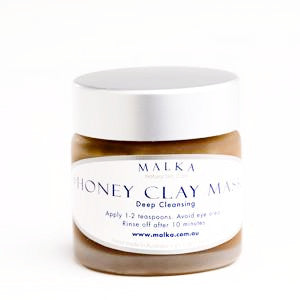 Honey Clay Deep Cleansing Mask
$58.50
Deep cleaning: draws out toxins. A sticky mask of organic raw honey, infused with pink Argiletz clay, organic rosehip &  jojoba oils and essential oils of rose and chamomile.
A teaspoon of the Honey Clay Facial Mask makes a great face scrub for the shower. Raw honey becomes granular in cold weather and the grains gently stimulate the skin, then melt as you softly massage your face.
FACE: for normal and oily skin.  Patch test first, Rinse off after 10 minutes.
SCRUB: store in fridge to use for full body exfoliating scrub.
BATH: dissolve 2 -3  tablespoons in a full bath for fragrant, aromatic de-tox.
For best use - store in a cool place (note: honey is a source of antioxidants and doesn't perish)
Patch test first.
Do not use if allergic to bee products.     And of course, this product is microbead free
Sandalwood alternative - Sandalwood powder & East Indian sandalwood essential oil help to treat oily/troubled skin.
Malka Skin Care Products are freshly hand made when you place your order.