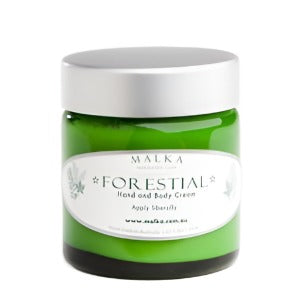 Forestial Organic Jojoba Hand & Body Cream - for Him and for Her!
$140.00
Soft jojoba cream scented with the evocative Forestial blend of essential oils, including mandarin, fir, patchouli and oakmoss Use for moisturising, massage, even for a gentle chest-rub for coughs.
Organic jojoba oil, vegetable waxes and butters. This cream is suitable for vegans.
Made fresh to order and preserved with natural anti-oxidants.  Remember to regularly wipe moisture from inside the lid to help extend shelf-life.
Ingredients: distilled water, jojoba oil organic (simmondsia chinensis), shea butter (butyrospermum parkii) organic, wax (coconut oil), grapefruit seed extract, vegetable glycerine. 
Forestial - inspired by childhood recollections of holidays at Mount Macedon, 60 km north west of Melbourne. A fusion of essential oils including mandarin, fir, patchouli, & oakmoss provide the rich foundation of this unique Malka fragrance, creating an atmosphere of fresh mountain air and tranquility.
Malka Skin Care Products are freshly hand made to order.