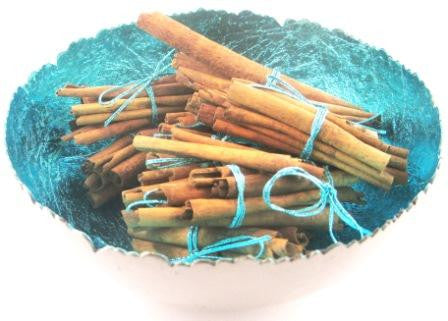 Bag of 10 x Sweet Cinnamon Bundles x-small-mini-drawer size, decorate gift wrap, xmas trees etc
$45.00
Mini bundles for every drawer. Each bundle measures approx 8cm x 3cm, 45g each. Packaged in a cellophane bag. 
Malka's signature scent – an uplifting blend of spices and florals splashed on to cinnamon quills tied with French ribbon (turquoise ricrac). May help to repel moths and silverfish, and lift low spirits. For drawers, wardrobes, cars, rooms, Christmas trees and gifts and treasure boxes.
Note - the ribbon is a ricrac, not straight cut as pictured; image true to colour and sparkle!