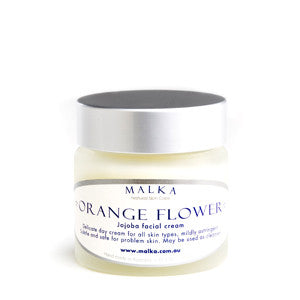 Orange Flower Organic Jojoba Face Cream, 250g, 1 available (run on stock, made 27th July 2023)
$55.00
Delicate day cream for all skin types, with a potent fragrance evocative of the Orient. Distillate of orange blossom is combined with organic jojoba oil, vegetable waxes and butters. No added fragrance. Mildly astringent. Subtle and safe for problem skin.
For men - use to moisturize after shaving. 
May also be used as a light weight hand & body cream for all skin types.

Made fresh and preserved with natural anti-oxidants. We generally recommend use within twelve weeks of opening, however it will last longer if kept in a cool cupboard. Remember to regularly wipe moisture from inside the lid to help extend shelf-life.
Ingredients: Distillate of orange flower blossom, jojoba oil organic (simmondsia chinensis), shea butter (butyrospermum parkii) organic, wax (coconut oil), grapefruit seed extract, vegetable glycerine.
This cream is suitable for vegans
Malka Skin Care Products are freshly hand made to order.